Same time last year, April – May, i was bogged down with projects and was on a continuous working spree! One of the interesting projects that came out of that super busy productive phase was a poster –
"Bird Droppings : More to it than meets the eye!"
Sneha, a PHD student from IISc, got in touch in early feb with an exciting poster plan for her Rufford Grant project! Her study had mainly been on the frugivorous birds of the Western Ghats. She was absolutely keen on using illustrations for her poster, than photographs. It was her sheer enthusiasm that got me to say yes for the project. She was so composed, clear and organised with her data. Very persistent, she kept me on my toes, but yet, wonderful to work with! Another added incentive that got me excited about her project was when she mentioned that she would be printing hundreds of posters in different languages and it would be distributed across many forest departments and schools in the 4 southern states!
I got started on these illustrations in April. I used a completely different approach myself. After looking into the list of plants and birds, i planned out the vertical composition with some very rough doodles. Broke it down. Worked on different elements of the composition. And fit them all back together like a zig-saw puzzle. They were all mainly pen and ink sketches to start with. Later, a wash of the respective colours completed the final layout. Getting started – the initial planning and the composition bit is the most challenging! Once you chalk that down, it will seem like half your work is done!
rough doodling, playing around with the compositions and trying to get the general positions of the birds and fruit bearing plants.
Working on the whole composition as seperate elements…
Throughly enjoyed drawing these pen and ink sketches!
birds of the dry-deciduous forest birds of the evergreen forest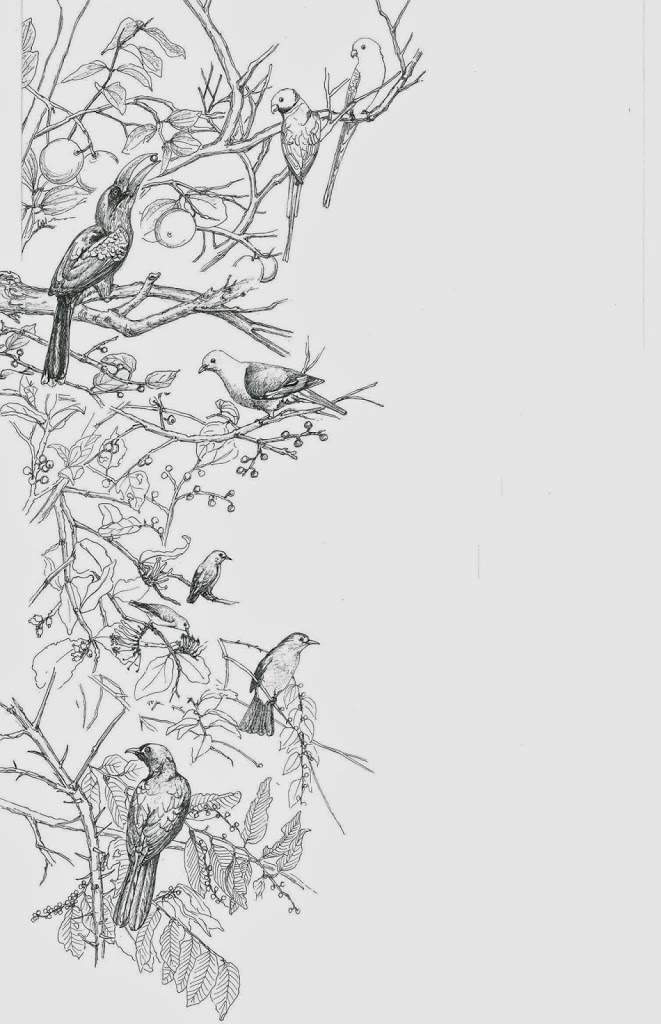 When the seperate elements were fit in togehter….
By the end of May, the posters were printed! The poster layout and all the relevant information was put together by Sneha. These posters were made bilingual. They were printed in 5 different languages – English, Kannada, Tamil, Malyalam and Marathi. As planned, they were sent out to many forest departments, schools and NGO's. Sneha, might just have about a few more copies if anyone wants to put up these posters !