GREENSCRAPS – Nature Journaling workshops
"Let nature be your teacher" – William Wordsworth
Be it the secluded woods or even a bustling urban city, we are surrounded by a bounty of nature, if we really care to see. 
Through a series of workshops known world-over as 'nature journaling', we introduce children/adults to the natural world through the practice of sketching. A series of fun hands-on activities are designed to fine tune the art of seeing, observing, drawing and writing. In due process, we slow down, spend quality time outdoors, draw inspiration from nature, start to notice details and begin to capture visual nature stories through sketches, notes and poems.
"It takes a considerable difference 
if one views something with 
a sketching pen in hand 
than without the pen in hand."
– Paul Valery
"I have learned that what I have not drawn, I have never really seen,
and that when I start drawing an ordinary thing, I realize how extraordinary it is, sheer miracle." 
– Frederick Franck
"To sketch, is to really see", and there couldn't be a better way to really observe! The details that one notices when we try to imitate a nature element in our sketchbook, cannot ever be compared to the hundreds of photographs that one might click. Nature journaling provides a whole new perspective of life around us. The practise of maintaining a nature journal involuntarily  imbibes a sense of curiosity, care, concern and connect with the natural world.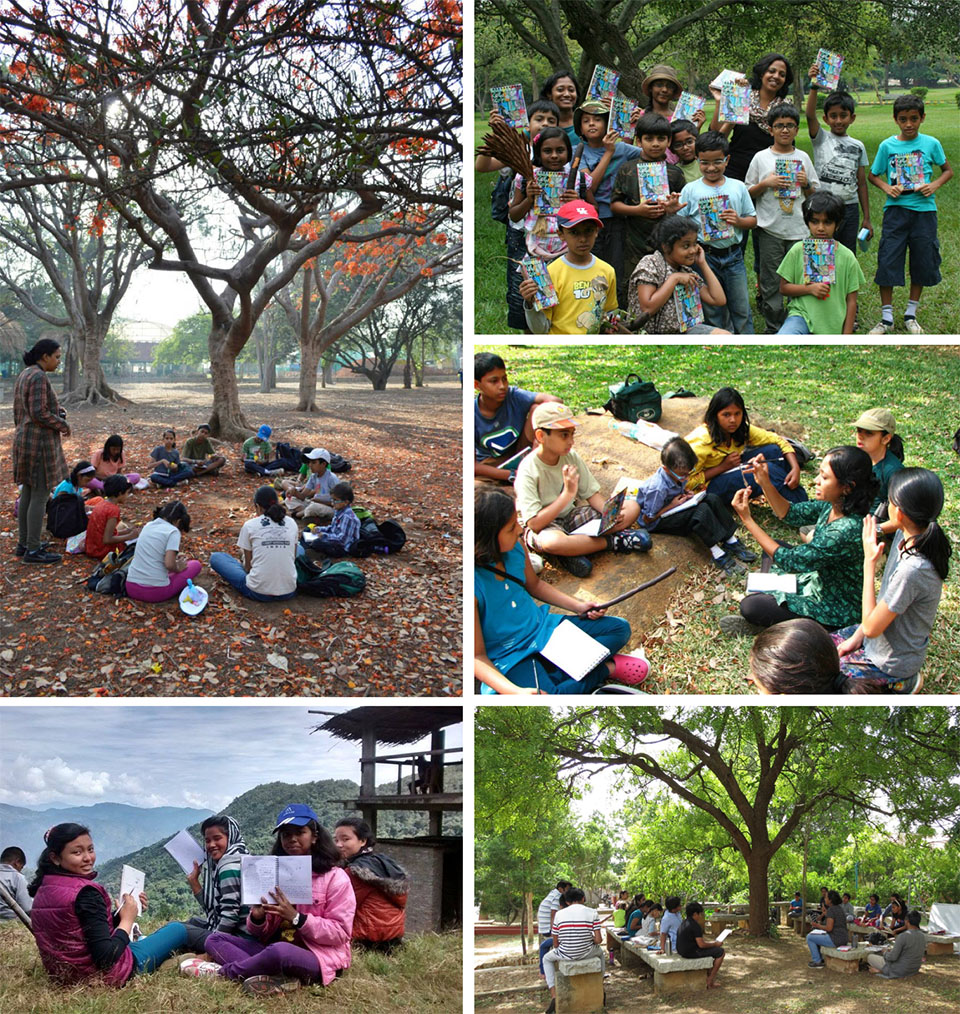 With a journal and pen in hand
Let's,
Observe the mysterious natural world
Explore the infinite diversity
Sketch all that nature inspires
Write about every passing moment
Collect heaps of stories
Describe with elaborate detail
Question the curious mind
Capture every essence
Understand nature's strife to survive
Learn to accept and respect
Connect with might and pride
Reassure their existence
and
Act with genuine responsibility. 
It has been an incredible journey for us thus far, one that fills us with a happy heart at the end of each workshop and has been genuinely satisfying for the soul.  While most of our workshops take place at Bangalore, we have had opportunities to travel to various corners of India to spread the love for -nature journaling- . We work with children mostly, but we have also designed workshops for parents, parent-child duo workshops, teachers, schools, college students, homeschoolers and corporates as well. 
Upcoming workshops will be updated on this page. Please write to us if you would like us to facilitate a workshop in your school or respective communities. We'll be happy to work with you on that.